Cardinal Catcher Earns Major League Scouting Accolades
By Glynnis Jones Aguirre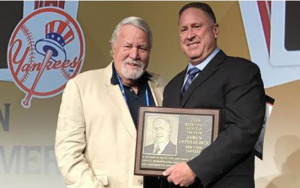 Hoover alum, Damon Oppenheimer  '81 (on right), was honored as the West Coast Scout of the Year at the Major League Baseball Winter Meetings on December 11, 2018, in Las Vegas.  Then just one month later, he was honored again by the Professional Baseball Scouts Foundation at the 16th Annual "In the Spirit of the Game" Awards Dinner in Beverly Hills, where he received the 2019 George Genovese Lifetime Achievement in Scouting Award, presented by Yankees GM Brian Cashman.  Damon is currently Vice President of Domestic Amateur Scouting for the New York Yankees, where he has been a permanent fixture in the scouting department in some capacity since 1996.
In his Hoover days, Damon played one year of JV and two years Varsity baseball, under Coaches Hal Mitrovich and Bob Warner, respectively.  As a senior, he was one of a trio of captains on a very competitive 1981 roster, where he was the starting catcher.  Damon played college ball for the USC Trojans and was drafted by the Milwaukee Brewers in the 18th round of the 1985 Major League Baseball Draft.  He played one season for the Class-A Beloit Brewers until his career was cut short by injury.  That setback was just a setup for the career he was meant to have – that of a major league scout.
Damon's scouting career began right here at home with the San Diego Padres, the team his mom worked for and where he sold concessions as a teenager.  From there he went to the Yankees, then the Rangers, and back to the Yankees where he has served in various positions since 1996, including overseeing the Yankees' drafts in numerous vice president titles since 2004.  It has been reported he is considered a likely future GM.
Damon's success comes as no surprise to those of us who knew him in high school.  Not only was he a talented athlete, but he was intelligent both on and off the field – a true student of the game.  His love for the game of baseball was always front and center, but he was also an involved and engaged student and a great friend.  If you ask any of our classmates to describe Damon, I'm sure they would tell you that he was one of the kindest and most thoughtful of all of us.  I know Damon's good fortunes have come from hard work and perseverance; but I also know that good things come to good people…which is why I am absolutely sure there are more great things for him on the horizon, and the Class of '81 couldn't be prouder.  Congrats, OP!
To read more on Damon's awards, go to: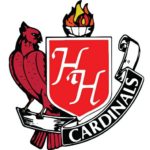 Hoover Students Give Car to Food Worker.
This inspiring story was on the CBS news. See link for full  video.
Click Here
TED WILLIAMS IN THE NEWS
1. The California Museum will be doing an exhibit of famous California baseball players. Ted Williams being the best player of all. We (Hoover Alumni Org.) have contributed 5 pictures and his class annual to be included in the exhibit. It will be from July 1 thru Dec. 31, 2018 
2. Dick Enberg's new book titled  "Being Ted Williams" is now available in bookstores and online. We (Hoover Alumni Org.) contributed a couple of pictures used in the book. See article below.

Hoover Alum, Olympic Hurdler James King to Coach Track Team
Hoover alum and past Olympic hurdler James King is coming back to Hoover to help coach track and field. In 1975 he won the Pan American Games in the 400 Hurdles. He was a top level performer for many years also competing in the United States Olympic Trials in 1972, 1976, 1980, and 1984.
King was ranked in the Top 10 United States 400 meter hurdlers for ten consecutive years[1] most of it during the Edwin Moses and Andre Phillips era. He held the official World Masters Athletics World Record in the 400 hurdles for Men 40+[2] for over 20 years,[3] until it was surpassed in 2012 by Danny McFarlane. He also held the World Record for the M35 and M40 400 metres (without hurdles) for almost 15 years each.
King was ranked in the Top 10
United States 400 meter hurdlers
for ten consecutive years.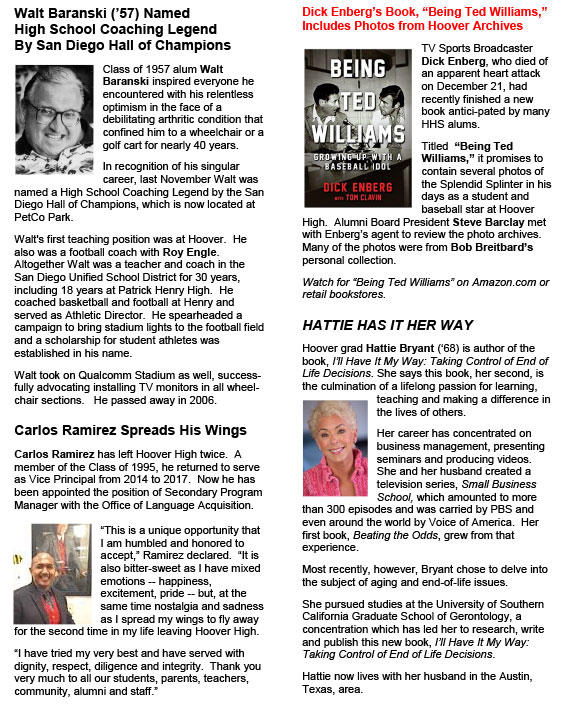 Hoover Grad Ted Giannoulas, aka the San Diego Chicken, Celebrated with 3 Pages Of Photos in U-T San Diego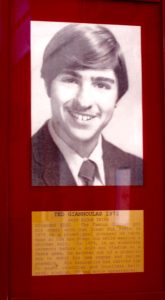 One of Hoover High School's most famous graduates is a man whose face is rarely recognized. Because he's Ted Giannoulas, Class of 1972 (pictured right), the man inside the well-known San Diego Chicken costume. Over his 41-year career as an entertainer at sporting events, rock concerts and parades we've seen him as the KGB Chicken, San Diego Chicken, Famous Chicken, or even the Famous San Diego Chicken. Chris Jenkins' keepsake article in the June 25, 2015 edition of The San Diego Union-Tribune features 14 photos and spans three pages of Sports, a pretty remarkable feat for a fellow who wears big floppy feet and a feathered suit topped by a sleepy-eyed outsize head. At age 61 is Giannulous slowing down? Jenkins asks. Hardly. "Inside that suit," says Giannoulas, "I still feel like I'm in my 20s, like I could live forever."
 
Hoover Cardinal Lineman Dick Chase, Class of '43, Finally Receives Bronze Star
Service in Germany and Japan Earned Private Chase the Award, But the Medal Presentation Was 70 Years in Coming  By John Adkins '72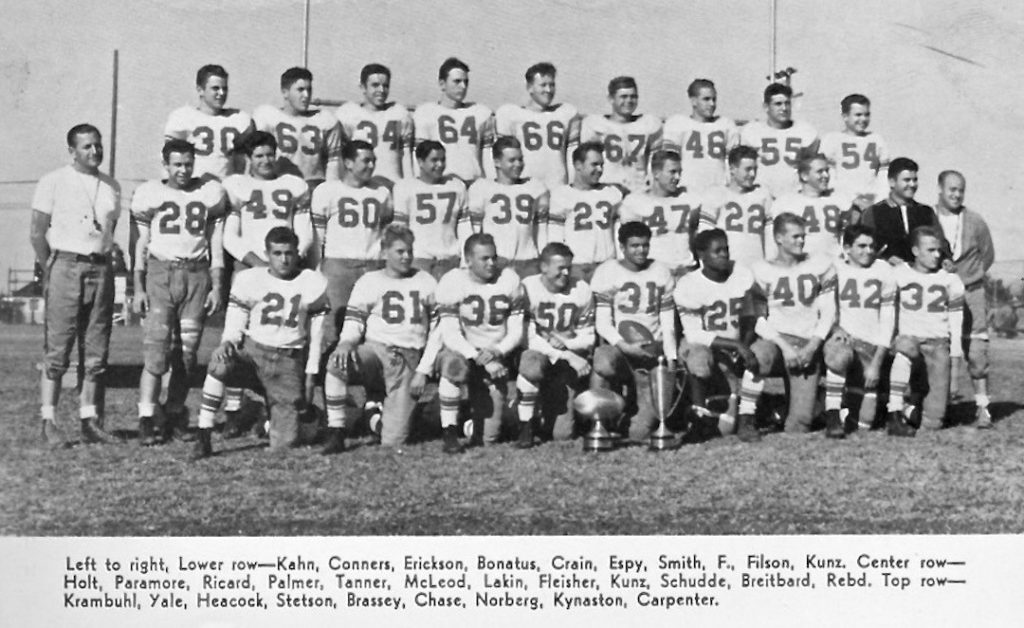 Dick Chase still throws a large shadow at age 90.  His hands are still strong enough to crush most others.  You'll see a wry smile as he watches you realize this. Milking cows at a diary farm in Mission Valley each day before school no doubt contributed to both his strength and his sense of humor. Dick was a lineman for the Hoover Cardinals in the fall of 1943.  "I really enjoyed football," he says, "and would have liked to play just a few more months before graduating." But that was not to be. While others we being fitted for Cap and Gowns, Dick was now fitted for green fatigues and a heavy helmet.  Instead of Senior Prom he was being taught the proper care and feeding of a trailer-mounted cannon. "I think the Electric Shop teacher 'ratted-me-out," Dick remarks, quietly sending word to the Draft Board that a very healthy Hoover High School Senior had enough credits to graduate early.  Then, there's that wry smile again. Dick arrived in Europe for the last two weeks at the infamous Battle of the Bulge.  His group continued on through Belgium, Holland, and Germany, finally helping to secure and assist prisoners in a Czechoslovakia camp.  It was there (he realized later) that his group qualified for the Bronze Star Award of Merit.   However, no surprise, the award never came. After completing their assignment in Europe, Dick's group was then sent to Japan to secure an Army base on the mainland.  As there was less threat for combat there, Dick was volunteered to operate a bulldozer for the daily needs of the base.  "Nobody else wanted anything to do with the dozer," he recalls.  "It was bigger than anything we had on the farm.  But I did OK with it." His new assignment paid off in civilian life.  Knowing how to operate heavy earth-moving equipment gave him a new skill to take home after the war.  Dick operated excavation rigs all over (now bustling) San Diego County. Subsequently, getting married and starting a family, he kind of forgot about that Bronze Star for a while.  For almost 70 years. Reading in the newspaper of a soldier receiving a belated award for a similar stint of service, Dick started calling friends, family and government offices to clarify his status and qualifications. "It was impressive to watch him work so hard, he did it all himself," says his wife Marie (Hoover '48). Dick made his case.  U.S. Representative Susan Davis then took up the cause and "got the ball rolling." Responding to Dick's appeal, Davis commented that it was "not a job duty but rather an honor" to see that veterans are properly awarded.  Recalling how her father served in Europe at the same time as Dick Chase, she said she was thankful for the effort of all soldiers that allowed her father to come home safely. So, one day after Veterans Day, Nov. 12, 2016, PFC Richard Chase received his Bronze Star for Meritorious Service in front of four generations (of five) of his own family.  Many friends (including some fellow Hoover classmates) also attended.  On display were many personal pictures of his time in service, a uniform jacket and a pair of dog tags. The ceremony was brought to order by his great granddaughter; leading the audience in The Pledge of Allegiance. A four-member Color Guard from March Air Force Base provided flag bearers. General Suzan Henderson provided the award and read aloud a proclamation.  Congresswoman Davis attached the medal to his chest.  Dick Chase stood quietly, looking down slightly, no sign of that "wry smile." After many congratulations, family and friends sat down to a Bar-B-Q picnic in a (very) sunny park in San Diego's Allied Gardens, not so far from the site of the old Mission Valley dairy farm of his youth.