The Following Programs are in Need of Support

Scholarships – Click Here for more information Academic Competitions – see below
Football – See 'Football Fundraiser' below
Music – See 'Music Program Hit by Funding Crisis' below                                                                
Other Programs in Need are:
Soccer

Cooking and Nutrition program

Academy of Information Technology (AOIT)

Academic Competition

Art Department

Academy of Language, Media, and Arts (ALMA)
Send donations to the Hoover Foundation c/o Hoover High School, 4474 El Cajon Blvd., San Diego, CA 92115.   Indicate on your check, the program you wish to support.  If no note given, your donations will go to the general fund.  Thank you.
Music Program Hit by Funding Crisis
$30,000 in funds have been cut as a private donation was not renewed.  Your help is needed to support our student musicians.  With the loss of $30,000 this year in private funding, the music program is struggling.  Your donation through the Hoover Foundation can help maintain the quality of our musical instruction.  Four areas of needs have been identified.  Two sousaphones are needed for the Hoover marching band.  A soprano saxophone is needed for the first chair in the Hoover jazz band.  An electronic keyboard is needed for the classroom and for engagements where the jazz band plays.  The jazz band also needs a jazz guitar.  The concert band needs a snare drum and a concert bass drum.  These funds are needed by December of 2017.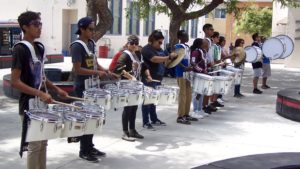 Nuts and bolts items include reeds for clarinets and saxophones, valve oil and slide grease for brass instruments, and strings and rosin for the orchestra instruments.  Cleaning supplies are needed for all of the wind and string instrument and replacement drum heads are needed for the drumline.  Cables are needed for the electronic instruments of the jazz band.  These funds are needed on an on-going basis.  Transportation is a critical function so that our musicians can participate in competitions, festivals, and parades.  Last year the drumline won awards in competition while the marching band and the jazz band represented Hoover at many events.  This vital aspect of the music program needs to expand to include the concert band and the orchestra.  These funds are needed by December, 2017.  Lastly, a digital recorder is needed to allow posting of quality sound on Hoover publicity sites.  One or two digital cameras would allow pictures also.  Funding is also needed to advertise concerts and events and make advertising banners.  Please support our music programs.  Send your donations to the Hoover Foundation, c/o Hoover High School, 4474 El Cajon Blvd., San Diego, CA 92115.  Be sure to mark your donation with your desired area of support.
Academic Competitions
The Hoover High School Academic Competitions program seeks to raise academic achievement by training and sponsoring students to participate in interscholastic academic competitions.  These competitions include quiz competitions through the San Diego County Academic League and the U.S. Academic Decathlon; science programs through the Mathematics, Engineering, Science Achievement (MESA) program, and speech competitions through the California High School Speech Association, as well as competitions in mathematics and robotics.  The Academic Competitions program has been serving from 50 to 100 Hoover students each year since 2007.  Please send donations to the Hoover Foundation c/o Hoover High School, 4474 El Cajon Blvd., San Diego, CA 92115.  Make checks payable to the foundation and indicate that they are for Academic Competitions.
International + Refugee Student Quilt Graduation Celebration
Friday, 6/8 – 10:00 a.m – Hoover High School International + Refugee Student Quilt Graduation Celebration
Hoover's student body is composed of youth from many different countries. Hoover's school community is very diverse and unique. In fact, many of the students upon arriving in the U.S. begin their studies at Hoover without English speaking skills, so taking ESL courses is important as English may not be spoken in their homes. The Hoover quilt program is designed to help them progress with their speaking skills. Each student in the class writes out their story of how they came to the U.S. Many of the stories tell of fleeing from their homelands, civil wars, living in refugee camps, families separated, family members killed, hardships and tremendous difficulties to overcome.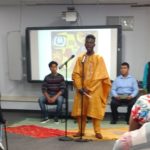 Yet they persevere and get here to begin new lives, with high hopes. After completing their stories, they practice reciting them because the final activity in the quilt program will be to recite their story to an auditorium filed with people who care and support them. Family members, fellow students, Hoover staff and others.  Another part of the program is to prepare a 12″ x 12″ quilt section with their story stitched onto it. It may show flags from their native country, the U.S. flag, rainbows to represent hope, trees to represent wisdom and other depictions of what they have overcome and hope to accomplish. At the conclusion of the program, all the quilt pieces are stitched together to form 1 large multi-national quilt of students stories. The day of their oral presentations some of the students wear clothes and costumes from their native countries. Members of the media are invited to the graduation celebration where there will be about 65 students making presentations at the ceremony. It is very unique, inspirational and emotional.