YEAR BOOKS FOR SALE
 
To get your book, contact
Eric Wong:  sd19fan@cox.net  or 619-997-7192
ORDER HOOVER HIGH ALUMNI BRANDED PRODUCTS
Place your orders for official Hoover High branded products to offer to everyone attending your class reunions!
Contact:  John Adkins 619-997-5642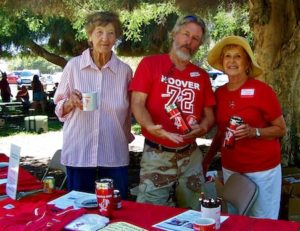 Cardinal Coffee Mugs   $5 ea
Pens   $2 ea
Openers    $2 ea
Baseball Caps   $10 ea
White T-Shirts    $7 ea
Red Crew Neck T-Shirts  $10 ea
Golf Towels    $5 ea
Small Wooden Cardinals For Table Centerpieces rent & return
AUDITORIUM CHAIRS FOR SALE
For more information call John Adkins 619-997-5642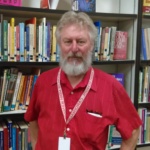 The first Saturday Sale of Auditorium chairs went well for our four customers.   Two customers were waiting at the gate at 10am.
One customer ALREADY owns two chairs from the 1977 demolition, but her chairs had no BRASS NUMBER TAGS.  When she found out that she could not only get the tags from us but she could also select her FAVORITE NUMBERS from the stock and harvest them herself.   She donated the full asking price just to get the brass tags.    (Once a cardinal always a cardinal).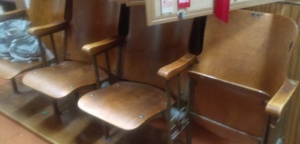 Most chairs are destined to be cleaned and preserved as-is, however the 6 units, now owned by Mr Dante, will be disassembled, sanded free of flaws and renewed to showroom quality.   He hopes to make them a feature at future picnics.    Stay tuned.
A lot of time was spent "tweaking" the swivels and swapping-out support screws.   Lucky my two attending buddies are Tweak-Freaks like me and the customers husbands were the same.  Santa's elves could not have done better.   This is a total goof-off fun project.  Hanging-out / tell Hoover jokes while getting fingers pinched / and MAYBE get a free Torpedo at Etna's at quitting time.
It's fun because the customers love the product as much as I do.  Looking forward to the next Sale. If you are or know a gearhead / wrencher / wood butcher please have 'em give me a call.
John Adkins
619-997-5642