AUDITORIUM CHAIRS FOR SALE
Just prior to the demolition of our old, beloved auditorium,  several deranged members of your Alumni Organization were able to salvage 60 original (1930)  theater seats and store them under the stadium bleachers.   They are all in "pretty good" shape (surprising how chewing gum can retain  tinsel strength after sooo many years) but may need a "little bit of wrenching"  to assure good folding motion. ALSO, please note theater seats are DESIGNED  to be  BOLTED to the floor.   To use them in a household setting, you will need to MOUNT them on a sturdy base.  Our (almost) professional staff will assist you with ADVICE on building a sturdy BASE.   Really.   
Price:  $20 bucks each (a STEAL).   All funds go to the Alumni Organization to support the school and student programs.  
For more information call 
John Adkins 619-997-5642  or  e-mail  Hardarch1@cox.net
ORDER HOOVER HIGH ALUMNI BRANDED PRODUCTS
Place your orders for official Hoover High branded products to offer to everyone attending your class reunions!
Contact:  John Adkins 619-997-5642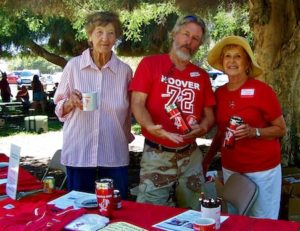 Cardinal Coffee Mugs   $5 ea
Pens   $2 ea
Openers    $2 ea
Baseball Caps   $10 ea
White T-Shirts    $7 ea
Red Crew Neck T-Shirts  $10 ea
Golf Towels    $5 ea
Small Wooden Cardinals For Table Centerpieces rent & return
YEARBOOKS FOR SALE
 To get your book, contact Eric Wong:  sd19fan@cox.net  or 619-997-7192  
Click Here for inventory
%MCEPASTEBIN%