For those of you who remember the school building before it was remodeled into an "earthquake safe" version which now resembles an "institution", you will be glad to hear it's being remodeled to again be a 3 story building looking a lot more like the original us older alumni knew and loved. It will have a tower. But I understand it will be used to house air conditioning so it won't be used for Tower day Book signing.
School Board will meet April, 2018 to approve the project.  Until approved, bids for demolition can not be submitted.  After the contract is awarded, demolition will begin.  Completion is estimated to be 2020 or 2021..
NOTE: During construction, the school entrance will be on Highland and the administration offices housed in the library.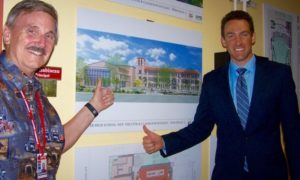 Get Ready for the Rebirth of Hoover High… for the restoration of the front buildings and tower that will bring back the architectural look of the Hoover High we knew and loved!