From Principal Jason Babineau  
Proud Hoover Alumni,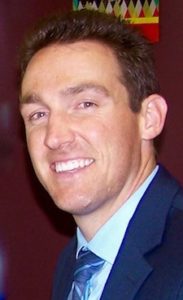 I am honored to introduce myself as the new principal of Herbert Hoover High School.  The posting of the principal position this past spring immediately piqued my interests, as Hoover's rich history and opportunity to reach levels of greatness stood as fundamental reasons to embrace the challenge.  Now that it's a reality, I could not be more thrilled to get straight to work and help to lead the students, staff, and community of Hoover High School through important steps that will ensure all of our students are prepared for positive, post-secondary opportunities.
I grew up in Rancho Cucamonga, California, and moved down to San Diego to attend the University of California, San Diego.  After graduating and earning my teaching credential at Point Loma Nazarene University, I began my teaching career at Mount Miguel High School in Spring Valley, where I taught a variety of subjects and coached.  I then accepted a Vice Principal position at El Cajon Valley High School, where among many other things, I partnered with alums to start an athletics hall of fame.
Fostering a relationship with proud alums is a priority of mine, as I firmly believe that moving Hoover High School forward will take the passionate efforts of every stakeholder.  I think my work in the Mount Miguel and El Cajon Valley High School communities has put me in a position to understand the challenges of our Hoover community and be able to immediately provide solutions with our entire team.
Upon arrival on campus, one of my initial takeaways was the vast amount of pride and tradition that fill the hallways of Hoover High School.  There are so many people who truly care about the well being of Hoover and our students, and I feel very fortunate that there so many people who genuinely care about the development of our kids.
My vision for Hoover High School consists of providing teachers with the tools and support to consistently move our students forward through a variety of teaching and learning opportunities, both in and outside of the classroom.  With shared goals and a deep focus on building literacy, I'm confident our student outcomes will reflect the dedication and hard work of our staff.
Fundamentally, I believe all kids can achieve incredible things if we provide them with love, respect, and have high expectations for them.
I am honored to be a Cardinal and am prepared to commit my life to this school. I sincerely look forward to working with you to ensure Hoover continues to progress.  I am excited to meet you! Let's make it happen!
Go Cardinals!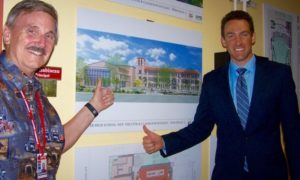 Exciting Plans – Alumni Organization President Steve Barclay joins Principal Babineau in enthusiastic support of voter-approved rebuilding of Hoover High's historic tower,  auditorium and administrative offices.
Jason
Jason Babineau  
Photos by Bob Battenfield