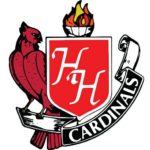 Welcome to the only alumni association affiliated with Hoover High in San Diego! Unlike other commercial sites, we support Hoover High School with our activities as well as serving the alumni. We want this website to be a place where Hoover alumni can gather and find out about current activites like reunions as well as share memories and update your classmates on changes in your life.
NEW YEAR'S GREETINGS FELLOW HOOVERITES,
NOW THAT WE'VE MADE IT TO 2018, WE CAN START MARKING UP OUR NEW CALENDARS.
Also, check REUNIONS page for upcoming reunions.
Class of 1954 Reunion Jan 24th, 2018
Class of 1959 Reunion in April
Year Books for Sale.  Click Here for Details.
Meet New Principal, Jason Babineau  
CLICK HERE to see a message From the Principal.
Matching Funds Sought for Goodall Scholarships
Jack Goodall graciously contributed $25,000 to our Scholarship Fund with the challenge to "Match it". To help us reach this goal please CLICK HERE to see how to contribute.
Awards Night, Campus Clean Up Day and All Class Picnic
Scholarships were awarded in June. CLICK HERE to see who won. Clean up day was Aug 12. CLICK HERE for details. Class Picnic was Aug 19. CLICK HERE for pictures.
 Demolition of Admin Building to Begin Late Fall
New construction estimated to be completed in 2019.  Select "New Construction" from menu to follow updates. CLICK HERE
 School Programs Need Alumni Support
Music Program Hit By Funding Crisis – $30,000 in funds have been cut.  Your help is needed to support our student musicians. CLICK HERE for the full story.
Football's Fundraiser – Coach Jimmy Morgans reports that you can support Hoover Football at https://snap-raise.com/fundraisers/28038.  CLICK HERE for the full story.
CLICK HERE for full list of Programs.
Leave a Legacy gift to Hoover
In your will or estate plan consider including Hoover High Alumni Organization. CLICK HERE for details.
Reunions Coming this Year
See the latest information on Reunions coming this year. CLICK HERE
Commemorate your time at Hoover
In addition to the memorial wall and tiles, you have an opportunity to add a brick to a new memorial walkway or provide a memorial bench. For more details CLICK HERE

 Hoover Branded Products
Coffee mugs, T-shirts, Baseball Caps, Golf towels and more. CLICK HERE

HOOVER  ALMA  MATER  SONG
Hail, Herbert Hoover High !
This is our song to thee:
"Long May our banners be
crowned with Victory."
We pledge our loyalty,
And our sincerity:
We will be true to thee
Hail, Hoover High !
 Words and Music by Clifford Nicholas, 1933