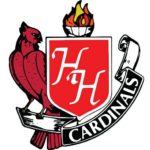 Welcome to the only alumni association affiliated with Hoover High in San Diego! Unlike other commercial sites, we support Hoover High School with our activities as well as serving the alumni. We want this website to be a place where Hoover alumni can gather and find out about current activites like reunions as well as share memories and update your classmates on changes in your life.
 Hoover High Baseball Game at Petco Park, April 20, 2018 

Click here 
For the latest in Hoover sports news and the schedule for all Hoover sports go to:
hhcardinals.com
Scholarship Awards Night May 31, 2018 – be sure to attend
Hoover Golf Tournament, November 3, 2018 – Click here
Year Books for Sale.  Click Here for Details.
 Demolition of Admin Building to Begin Late Fall
New construction estimated to be completed in 2019.  Select "New Construction" from menu to follow updates. CLICK HERE
 School Programs Need Alumni Support  
 

CLICK HERE

for full list of Programs.
 Leave a Legacy gift to Hoover
In your will or estate plan consider including Hoover High Alumni Organization. CLICK HERE for details.
 Reunions Coming this Year
See the latest information on Reunions coming this year. CLICK HERE
 Commemorate your time at Hoover
In addition to the memorial wall and tiles, you have an opportunity to add a brick to a new memorial walkway or provide a memorial bench. For more details CLICK HERE

 Hoover Branded Products
Coffee mugs, T-shirts, Baseball Caps, Golf towels and more. CLICK HERE

HOOVER  ALMA  MATER  SONG
Hail, Herbert Hoover High !
This is our song to thee:
"Long May our banners be
crowned with Victory."
We pledge our loyalty,
And our sincerity:
We will be true to thee
Hail, Hoover High !
 Words and Music by Clifford Nicholas, 1933